As you know I am working on creating an oasis for my son by transforming his room from kiddy to young adult.  I want a cozy retreat for him with soothing colors.  When choosing colors I seek inspiration online and shop at my local Home Goods.  I feel Home Goods is always in trend with what designers and high end retailers are displaying.  The price point is what I appreciate.  Home Goods is where  I found the bedding.  It was a quilt that was the perfect color, masculine, and could help achieve the look I was going for.  Shortly after that purchase, I received the Restoration Hardware Catalog and there was a quilt that looked exactly like mine.  I was loving that!  It made me realize I was on trend with my vision.  Not to mention, I love Restoration Hardware.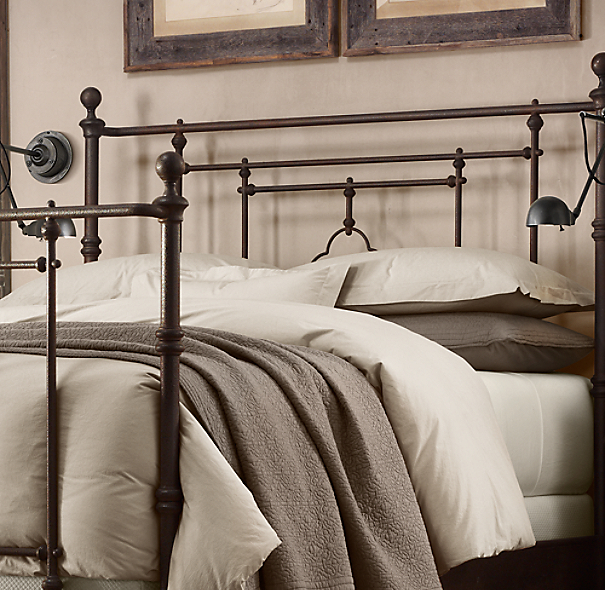 picture Via Restoration Hardware
The quilt is a pewter/tan color with silver thread used for the stitching.  The stitching was my jumping off point for the paint color.  The walls need to be neutral.  I want to incorporate vintage finds, yet give it a modern, up to date look.  I felt a silver would be perfect.

This is the color I chose;
Benjamin Moore – Silver Lining
It was fun seeing the khaki walls disappear and the silvery, blue-grey appear.
The grey does look darker than the swatch here, doesn't it? 
It is probably the lighting in the room.
It is really a unique color, changing with the light.  With a lot of light it appears more blue-grey,  with less light more silver-grey. 
I also purchased  throw pillows in a stone color to coordinate with the quilt.  I chose white sheets to make it feel and look like a posh hotel.  (I can hope). 🙂
I drew up a couple of elevations today.

It has been too cold to paint here and I am itching to get started with all of the projects I have in store for this room.

Until next time…
Enjoy!
Angie