DIYing is painless these days… don't you think? 
With the internet and new products it gets
easier and easier to create one of a kind looks inexpensively. 
We can have homes that speak our language while simply done on a budget. 
I am enjoying the magic of spray paint. 
It is easy, quick, affordable, and can change the look of an item instantly. 
Do you remember the vision for my son's room that started here?
I wanted to purchase a Restoration Hardware bed,
but knew I could create a knock off instead.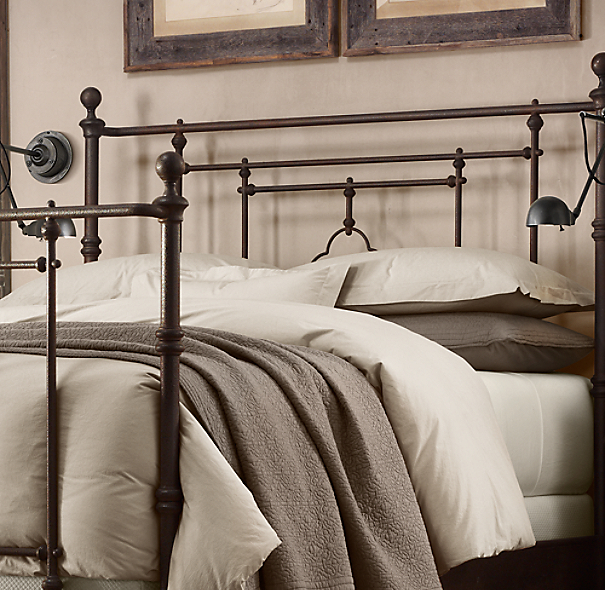 Then I saw this on Craigslist for a whopping $40.00
and knew this heavy, old brass bed could be transformed
into the bed I envisioned for my son's room.
Brass is creeping back into interiors and I am loving the look,
however for this room, I wanted an oil rubbed bronze finish.
Like magic, spray paint came to the rescue again.
I used Rust-Oleum Universal 
Metallic Paint and Primer.
For your convenience I've inserted an affiliate link here
.
I cleaned this bad boy really good
and placed it on a tarp to start the spray painting process.
Immediately it transformed into this.
You probably know by now that creating dimension
is really important to me when painting. 
I like layers and movement. 
I wanted a professional look and this spray paint
really gave the movement I was looking for.
I love how it sparkles and creates a professional finish.
Here is a closeup…
I used two coats to accomplish the task and achieve complete coverage.
It was really easy!
There you have it!
Just like magic the brass bed was transformed into a Restoration Hardware Knockoff.
Pretty close, right?
 The reveal of this room can be seen here.
It's been done for a while now,
but I wanted to show you all of the DIY projects before the reveal.
Have you used spray paint on a bed frame?
If you haven't, are you itching to try it now?
Enjoy!
Every. Single. Moment.
Angie